Happy Tuesday Everyone!
Today's Top Ten Tuesday Post is about one of my most favorite things in the whole world, BOOKS. Reading has always been something I was big into as a child, young adult and adult. I read any chance I can get really, so this weeks topic is our Top Ten Books. Gosh this is going to be a hard one because there has been so many in my life, but here I go.
10. R.L. Stine, Fear Street.
I know these are super old but these were some of my favorite series growing up. I would take out tons from the library, every chance I could get and then on Saturdays or Sundays my mom and I woul go to the mall and I would buy one there. I probably have read every single one. When I am the Goodwill or a Thrift Store, I always look for them too because it has such a sentimental meaning.
9. The Babysitters Club
Another nostalgia book of choice. I have read every single one of these books also. I even went on to start my own Babysittes Club because of the books. I look back now and how cheezy and corny they were, but gosh they were some great books.
8. Don't Die My Love
I must have read this book a million times. It was the first book, I ever cried reading. Again I read it when I was younger but it still left an impact on my life with how great it was. I loved this book, tremendously.
7. A Million Little Pieces- James Frey
Even though it turned out to not be true, this book was great. Suffering from a family of alcoholics, I was a moth to a flame to this book. I loved the in depth look into addiction and rehab. I also read his other book about the friend he met in Rehab.
6. White Oleander
Another book that left an impact on me. I even used this book in my college essay papers, as I related to this book a lot, being I had a mother whom was very much the same. Again I always love books more than the movies.
5. Nicholas Sparks
I know this is an author rather than a book, but I just cant pick one of his books, seriously I love them all. So he gets a whole section because I could list each and every one.
4. Jodi Picoult- The Pact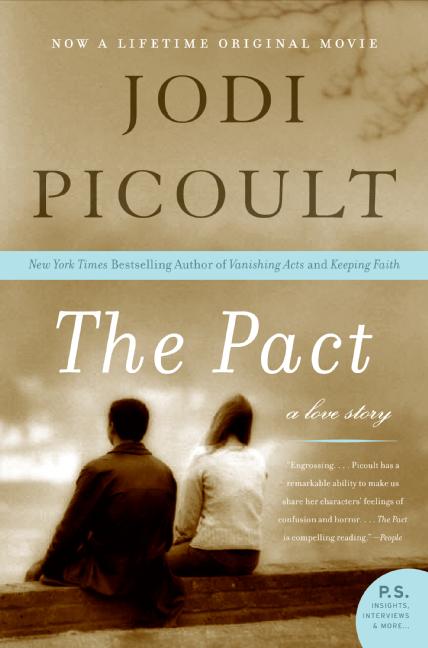 I read this and loved it forever. I read it in high school and it has stayed with me. So unique in her writing style, breaking chapters between people and events. I had never read anything like that before, she instantly became one of my favorite authors and I read everything she comes out with.
3. Summer Sisters- Judy Blume
I read this book and passed it on to my best friend Lea Ann when we were younger and it was 100% us. I loved Judy Blume and this book was the perfect coming of age book.
2. Forever- Judy Blume
This was the first book, I ever read that involved sex and I couldn't believe what I was reading. It was so good and naughty and one of my favorite books of all time. Another great summer coming of age book.
1. Wild
I read this book while I was marathon training and it spoke to me on so many levels. It was motivation, inspirational, funny and driven. I loved the depths of this book and it was a true story and a great movie.
This was so hard to do. There are so many great books and I could go on and on with my lists. Make sure to check out
Nancis
post too .
Also we hold an online book club over at the Novel Bunch on Facebook, if interested please join. We are picking our September book now.