Hey Ya'll its Top Ten Tuesday Time and today we are talking about PUMPKIN!!!!
Seriously, I am a sucker and a lover of Pumpkin EVERYTHING. It can come Spiced or non Spiced and I will throw that bad boy in the cart, or order it from a menu or make it home. I have no clue why I love everything pumpkin but I surely do. And now that it is October and fall time, well for most of the areas, minus here in Florida, Pumpkin Season is in FULL swing.
So lets talk my top Ten favorite Pumpkin items...
10: PSL! Yup lets kick it off with the most "basic" item there is, the famous, yes famous Pumpkin Spice Latte, most popular from Starbucks. The PSL is a staple this time of year, that spice taste, mixed with a little extra caffeine and I am in heaven. Starbucks has also interested this time of year, one you can make at home...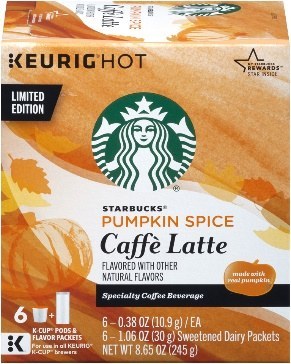 I picked this up from Target, it actually comes in 9 and these are really really good. I take one with me to work and it is a nice little jolt and pumpkin love and honestly half the price and calories. I love me some PSL.
9. Dunkin Donuts Pumpkin Swirl Iced Coffee- Probably my FAVORITE pumpkin coffee drink. While yes I love the PSL, DD is always the best for me. I get it iced and with skim milk and splenda. I heard this year that there was a sugar free version but none of my DD carries it. I am hoping when I am home this weekend they have it up north. The swirl is a sweeter version and seriously I wish they carried it year round.
8. Pumpkin Spice Cake- This a 2 ingredient cake mix recipe. Where you take a box of cake mix and mix it with canned pumpkin. Mixing it with a Spice Cake mix and you can create your Pumpkin Spice cake or muffins or cookies, however you divide it up. Quick, easy and a little bit of fall there for ya.
7. Pumpkin Spice Morsels-
These are awesome for anything really. I add to ice cream, yogurt, oatmeal and baking or sometimes one little teaspoon goes along way.
6. Pumpkin Fluff- Nanci over on
This Crazy Life of Mine
, posted about this and 1. we are besties so it is no surprise that we both have this on here. 2. I forgot how much I LOVE Pumpkin Fluff and I want to make it again. I saw and heard about it originally at a Weight Watchers meeting. Super simple and delicious to make, One Can of Pumpkin, one box of sugar free jell-0 i use vanilla and a tub of fat free cool whip, Nanci mixes her's with some things different, which I am so going to try, I LOVE the butterscotch idea. Then you mix it all together and chill. I believe 1/2 of cup and you are good to go for a serving. I have served with those morsels above.
5. Pumpkin Shaped Candy Corn- Okay while they don't taste anything like pumpkin, I freaking love that they are pumpkin shaped and I love candy corn, I just can't have it around or I ended up eating it all and lets be honest, the pumpkin shaped are the best.
4. Fiber One Pumpkin 90 Calorie Bars- These are limited and seasonal and found I believe only at Target. They are fantastic. They have the perfect amount of sweet and spice. My Favorite Fiber One bar by far.!
3. Pumpkin Yogurt- I try any Pumpkin flavored yogurt. Seriously I love it all, I really don't have a favorite and haven't found one I don't like yet. The Dannon Light and Fit Greek one is really, really good and only 80 calories and protein so that is a win win.
2. Pumpkin Pie or Pumpkin Spice Coffee Creamer- Both International Delight and CoffeeMate make Pumpkin Creamer, I get one each year, sometimes both are in the house. I prefer the sugar free and fat free versions, that way if I measure a bit more in my coffee, I am not cheating too much. I currently have the Pumpkin Pie I.D. sugar free one and it is really great. I can enjoy it with really any flavor of coffee, a weird combo that works, the creamer mixed with Blueberry coffee. Believe it or not, it is fantastic.
1. Special K Pumpkin Spice Crunch cereal- Holy crap guys, this cereal is the BOMB.COM. Yup being totally corny on this one because it is sooo good. This is new this year and limited and I had to get it. I love the Special K Apple one last year and well they hit a home run with the pumpkin. I believe it is only at Target. I don't eat cereal a lot but when I have a craving I want something I know I will really enjoy and this is year.
Make sure to check out
Nanci's
post on everything pumpkin too, she has some really tasty ones are there!!!
So what is your favorite pumpkin item??