As you know I am a lover of television shows and I have binged quite a lot over the time. With the ability with Netflix, Hulu, Amazon and any other streaming device it is hard not to watch some of your favorite shows that way. I love a good binging session for sure, James too. Some nights before we know it we are up past 2:00 am, it sucks in the morning but man you get sucked it.
So in no particular order here are some of my Top Ten T.V. show, this is current, all time and binge worthy all mixed into one.
10. Sons of Anarchy:
I didn't want to like this show. I had no clue how much I would really love it. A show about a biker gang that kills and deals and everything in between, BUT this show is amazing. I was hooked after the first season and fell in love. The characters and the story lines and the lead character, Jax, well you just love them all. I now own calendars and a trivia kit from the show and downloaded tons of music from it. Seriously, if you are looking for something different to watch, this is the show for you! It originally aired on FX and you can stream and catch up through Netflix
9. Game of Thrones:
Another show I NEVER thought I would like. I have heard all the hype of G.O.T. and never understood. I am not one for fighting or history. I want now and real and I want love and funny and well this show really does have it all. It just finished up its 6th season and we are watching it through HBO Now on our Apple T.V. device. James loves the show and while it took me a good 3 seasons to get into it, I really do enjoy the show. Again the characters are so important and interesting you can not help but not like them! We are half way through season 5 right now and should be caught up with everyone else quickly. This is only on HBO so I understand it is hard to find, BUT HBO really does have some other great shows too.
8.
Grey's Anatomy
Oh Grey's....This show makes me happy, sad, loved and angry about once an espsiode. While there was a time there I thought I was done with Grey's they find away to get me right back. After the Whole McDreamy horrible death, I am still holding strong. I have to stay until the very last one because I have dedicated so much too it. This past season was really good, thankfully. This can be found on Netflix and it is a great binge worthy show, it has given us lots of amazing quotes, "Pick Me, Choose Me, Love Me", heart breaks, hello the Denny and Double 0 7, the plane crash, the bomb. These characters literally die and come back and still manage to have lives, it is pretty amazing. You cheer and fight along with them and you know who your person is. I highly recommend this show.
7.
Breaking Bad
BB is probably the most Binge Worthy show out there, besides me next one. I didn't watch this show when it aired, as probably most of these I had not, but this show is amazing. I was so hooked on this show that before Netflix put on the final season, I bought it so James and I wouldn't have to wait until it came on Netflix. This show is everything you think it would be and everything it is not. Another show with tag lines as Remember My Name and Yeah Bitch. AGAIN another show I didn't think I would enjoy and ended up really loving it.
6.
Orange is the New Black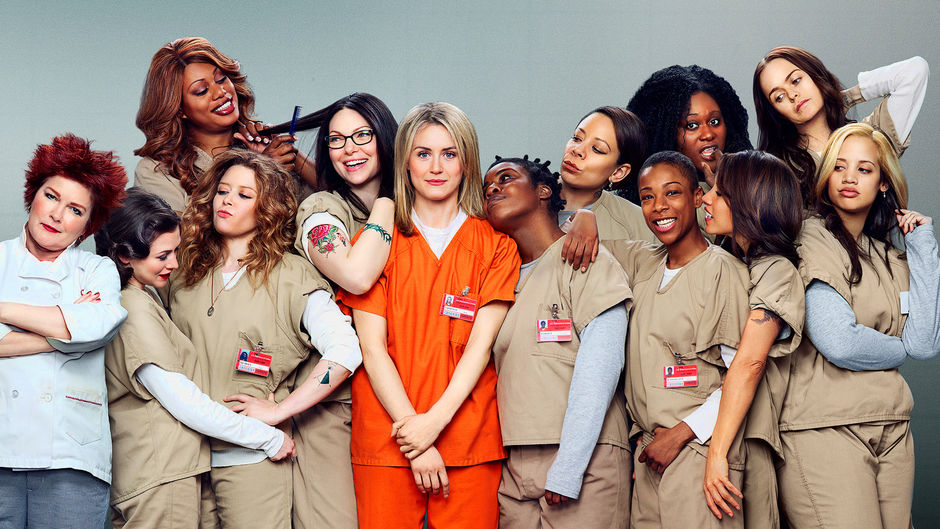 I can not say enough amazing things about this show. If you have not heard of this show then you are living under a rock. This is a Netflix only show, BUT it is worth signing up for Netflix alone, despite the 9.99 cost, seriously it is worth the money for this show. One of my coworkers watches it now and is in love with it. Season 1 and the past Season 4 are the best. The characters are so deep, emotional, and profound for sure. The scenes and the rawness is so different and it is Netflix so they can do what ever they want. This is probably one of my favorite shows of all time. Oh and it is based on a true story, the first season at least and was a book, which is also a great read.
5.
Friends
I know this will be on Nanci's list also!!! Probably the best show T.V. sitcom of all time. So many laughs and tears with this show and so many iconic epsiodes that you want to watch over and over. I still cry at the finale, each and every time. Anytime I come across this show on TBS, I can not help but watch it, even if I saw it a million times already.
4.
Big Bang Theory
I came to liking this show pretty late in the game BUT instantly I loved it. They have some of the best one liners and with a character like Sheldon you are laughing the whole time. Each character is so different in their own way but together it works like no other! While this show is not binge worthy you can get caught up quite easily on TBS because they do marathons of this show often. This is going into its 10th season I believe, I could be wrong and I hope it stays around for many many more.
3.
The Goldbergs
Even though this show is set in the 80's it speaks to modern day more than anything. This family is hysterical. Show on Wednesday's along with Modern Family and Blackish, this family fits right in. The mother is best and the brother is a total moron, you will understand when you watch the show. It takes you back with 80's nostagla and always has a great message to portray. The show is based on creator Adam Goldbergs home videos, makes this show even more geniune. At the end of the show he even shows an original home video the show is based off of, which is really neat. You will LAUGH a lot with this show.
2.
Law & Order: SVU
I believe this show is going into its 18th Season this fall, crazy!! I mean you seriously have to be living in the dark ages if you have never had a SVU marathon on TBS or USA or Netflix or on Demand. I probably have seen every one, some more than once because when it comes on and I have nothing else going on, I can not help but watch it. Ice T cracks me up with his one liners, Carsis is my new favorite and well Olivia, I just want that girl to stop trying to be killed and finally happy for once. The show really is fantastic with its sometimes true to life story lines and I am going to guess it is on everyone's guilty pleasure list.
Okay so this one has to be a tie for me, I know despite the Top Ten but it was hard to choose....
1
.The Twlight Zone
My mom and I would watch the marathon they showed every New Years Eve and Day when I was younger, as we took down the Christmas Tree and still till this day I do the same thing. There are millions of them out there and I love each and everyone. The one where they get stranded at the diner is my favorite and I love when I catch it. They have every single on Netflix, but I wait until New Years to watch them and they also show it on the Fourth of July, I, of course catch it then too. They are bad acting but the short stories are so good.
And my biggest guilty pleasure..
Saved By The Bell
Still my favorite show of all time. I have seen every single one, even the specials they showed, like the beach vacation, the one in Hawaii, THE WEDDING OF ZACH and KELLY, I still cry when they do the flashbacks and of course the college years. I LOVED LOVED this show growing up. I had the books, the games, the Cd, the dolls, I had every book and magazine they came in and I followed them after they left the show, example with Tiffani Amber Thiessen went to 90210, another big show of mine. I secretly hoped they would all marry each other, never happened and I even watched that horrible Lifetime movie about the Secrets of the show. This show definded my childhood crushes and my childhood in general, it later set me up to love, like I mentioned 90210, Dawsons Creek, California Dreaming and One Tree Hill. It was the perfect early 90's show and yes I will sit and watch it on TBS from time to time. It is my favorite memory of childhood.
So grab some popcorn, set your DVR's or add these to your Netflix Que, because I know you will love these shows just as much as I do, Enjoy!
And what is one of your favorites to watch???