So it is official, I have finished my last training run on my marathon to finish training plan with Jeff Galloway. This training plan has changed my whole outlook on running, exercising and life in general. It gave me structure, routine and seriously a purpose each and every day. I stayed to that plan through all the heat, the humidity, the early, early mornings, the runs before work, after work and all that happens in between, like life, love and vacation time frames.. Sure, I complained at times, but that never stopped me from getting out the door and hitting the ground running.
The mornings, I wanted to just sleep in or the cross train days, where the idea of having to do something other than running made me cringe. The days when I did walks and I really wanted to run. I believed 100% in his program. His book I bought along with it, I drank the Kool-Aid and the Kool-Aid saved me. Every day I had something to do in the beginning and as the miles increased, I had flexibility to make the training more my own. I eliminated some cross train days and just ran, which is really all I want to do. I increased my rest days when needed and learned to recognize when I am being Lazy and when I really needed REST.
I understood not just with the running what my body was capable of but what my body needed to sustain the miles. I did lots of test runs and had lots of failing ones. But I nailed it down and know what will carry me to the 26.2. Also I learned what I eat during the week, not just the day of or while I am running, really does matter. Having some drinks the night before a run, is not the best idea. Or trying a new energy bar, or a new pasta sauce or not eating enough. Water is everything and anything to me and this is coming from someone who hated drinking water, now I choose it over my beloved Diet Coke.
I learned what my body craves after a run and how it reacts to the long mileage. What to wear and how to overcome those runs where you feel like you just cant make it through.
The best thing I learned from this training plan is how tough I really am.
I grew up in not your average household. I have seen a lot and been through a lot. I have always considered myself to be a tough person BUT marathon training has taught me how tough I
really
am. And taught me the strength inside of me is stronger than anything I ever thought I had. I NEVER knew going into this I would come out a different person.
I often thought how was I going to get past those 13.1 miles. Then when it came to the day, I got through them and then more and more and completed my longest of 23 miles, which I am so glad I did, I know that will make all the difference for me on Sunday, having that little trigger in my head, knowing I just have to 3.2 more. The training plan kept me on track. It kept me focused, it kept me putting one foot in front of the other and I know I sound cliche, but believe me this is really how it feels.
I sit here, 2 days before the big day at awe at myself that above all of this, I made it through 5 1/2 months of the grueling conditions and I made it out alive and never once did I give up. And the best part, never did I once want to give up either. I never wanted to turn around and go back, or skip the miles. I always wanted to keep going forward because this training wasn't about getting me to the finish line or the starting line at that, it was about me setting a goal, a dream and succeeding it to the end.
I trained for close to 700 miles of a combaintion of running, walking and biking with roughly 600 of that was just running alone ( I will have the exact number when I get home ) and for 168 days and it will all lead up to the final 26.2 in 2. Thank you so much for reading along to every single one of my marathon training posts. The posts that changed my life or the posts I just wanted to update and let you all know how I was doing. Thank you for the comments and likes or just for stopping by. Thank you for helping me get to this starting line.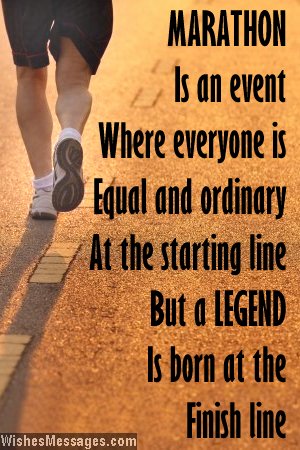 And now for the next two days is rest and pampering and just getting ready for the big day on Sunday!!