I was given a free sample from Brookside Chocolates of their new Chocolate Cluster Fruit Combination.
Well I am very familiar with Brookside. I love all their dark chocolate and fruit items, it is actually a weakness of mine. I love the Dark Chocolate Acai with Blueberry.
So when the opportunity through Crowtap come up that I could try Brookside Dark Chocolate Crunchy Clusters, I was all in and they couldn't have come at a better time.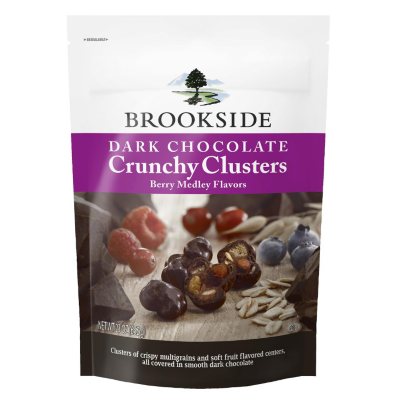 Can I first say they are amazing!!!!!!! I mean like really, really delicious. They are clusters of cripsy multigrains with fruit covered pieces in dark chocolate, I mean doesn't that just sound amazing. The fun part were some pieces were really big, others small, but HUGE in taste. I could not stop eating them either, which could be a bad idea. But for my cravings and taste buds, it was spot on.
I haven't seen these in any stores yet, but when I posted to Instagram, I was told they are sold at Costco!! Big score because it is probably economy size. The best thing about this product is the chocolate tastes like real chocolate, not bitter and not to sweet. I feel like I am getting so many worlds in one with this combination.
Do yourself a favor, when looking for a fun, sweet and crunchy snack, grab a bag and handful of these...
Oh and they pair amazing with this...